St. Mary's Mission, was founded in 1841 by Fr. Pierre DeSmet, a Jesuit priest. This is the fourth of the Chapels built in the valley for the Salish people. The front part of the Chapel was built in 1866. It was enlarged from the archway back, with completion in 1879. The colors have been restored to the original shades used by Fr. Ravalli who achieved his brilliant colors by using vermilion clay for the reds, blue from indigo traded among the tribes, yellow, a sacred color, came from a cave at the mouth of the Judith River.

The Mission was closed in 1891, when the Salish were forced to move to the Jocko Reservation. It was re-opened in 1921 and served as the Parish Church until 1954.

Today, services in the Chapel are held on a limited basis and regardless of one's religious leanings it is inspiring to sit in the age-old building and harken back to the beginnings of the State of Montana.

Young Antonio Ravalli spent many hours in his Italian parish church, Santa Maria in Vado.  His memories of the magnificent interior seem reflected in many details seen in Historic St. Mary's Chapel. Unlike the simple rustic exterior, the church interior has elements of a miniature Italian Renaissance  cathedral.

When restoration began, stripping and sanding revealed Fr. Ravalli's use of harmonious colors throughout the Chapel.

Current restoration and preservation of the Mission Complex began in 1972, spearheaded by local historian and author, Lucylle Evans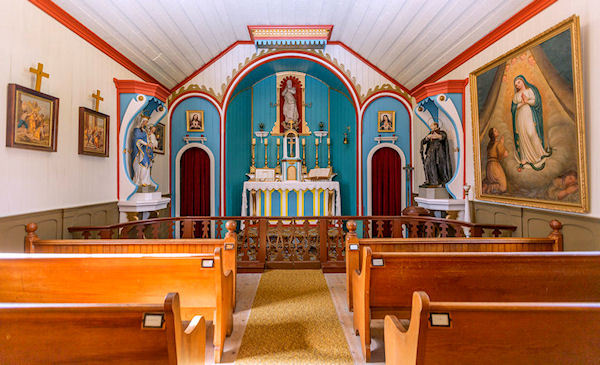 Tour the Chapel

Photo  Gallery